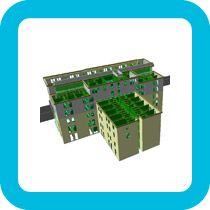 Martin Design operates TAS, an industry-leading building modelling and simulation tool. Capable of performing dynamic thermal simulation for the world's largest and most complex buildings, TAS allows us to accurately predict energy consumption, CO2 emissions, operating costs and occupant comfort.
This powerful tool allows all aspects of a building to be considered and tested at all stages of the design and construction process. At feasibility stage orientation, proportion of glazing, perimeter to area ratio, shading and materials can be examined. Performance and compliance can be monitored throughout specification and construction. Specification decisions are informed by firm results not just experience and 'best guest' choices.
Building Regulations issues, BREEAM credits and renewable energy strategies can all be addressed and proof provided to the satisfaction of all parties.
Using this type of DSM requires not only an understanding of the software but also wide ranging engineering experience. Our energy assessors are qualified and experienced mechanical engineers. Using TAS our registered assessors have lodged several Level 5 EPCs.
Renewable
Energy
Driven by the requirements of Planning authorities, tightening of CO2 targets in Building Regulations, credits available under assessments schemes such as BREEAM, etc, renewable energy systems are now an everyday consideration for the UK construction sector.
Over recent years, Martin Design has gained extensive knowledge of the range of renewable technologies available. We have investigated, specified and completed many projects incorporating the following systems:
Ground Source Heat Pumps

– Closed loop piles, shallow loop and open loop borehole.

Air Source Heat Pumps

– Air-Air, Air-Water, Water-Water

Combined Heat and Power

– Bio-fuelled, district heating

Solar Thermal

Photo-Voltaic

– Various technologies with systems up to 50kW

Wind Turbine

– Stand alone and building mounted

Bio-Mass

– Pelleted and waste wood fed boiler systems

Bio-Fuel Alternatives
Understanding the benefits and draw-backs of all these technologies allows Martin Design to specify integrated renewable systems that achieve the aims of carbon reduction.