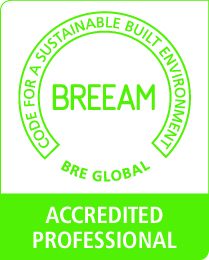 BREEAM (BRE Environmental Assessment Method) is the leading and most widely used environmental assessment method for buildings and communities. It sets the standard for best practice in sustainable design and has become the de facto measure used to describe a building's environmental performance.
We are a licensed assessor company and able to provide BREEAM 2014 New Construction assessments covering:
BREEAM Healthcare (Public)
BREEAM Education (Public)
BREEAM Commercial (Office / Retail / Industrial)
In addition on we are also BREEAM accredited professionals. A BREEAM Accredited Professional is an individual qualified and accredited by BRE as a specialist in built environment sustainability, environmental design and assessment. The role of the BREEAM AP is to facilitate the project team's efforts to successfully schedule activities, set priorities and negotiate the trade-off's required to achieve a target BREEAM rating when the design is formally assessed.
BREEAM
at MDA
Here at Martin Design Associates (MDA) we are passionate about the energy and sustainability aspects of buildings and the impact they have on the environment. Therefore, we are delighted to introduce to you our new dedicated BREEAM team.
Why choose
MDA?
The assessors are infused with the MDA engineering principles which means we don't just offer you an administrator, but the benefit of a perceptive assessor who would offer a positive contribution to your design team. Our BREEAM team will input with their experience as early as practically possible and offer ongoing support to the whole design and client team in order achieve the targeted rating and provide the most sustainable building possible.
If you have any further questions about our BREEAM service, Please do not hesitate to contact us:
Adam Willis (BREEAM AP)
Tel: 01904 488 486
Email: info@martindesignassociates.com